OK, as promised in the last post – photos.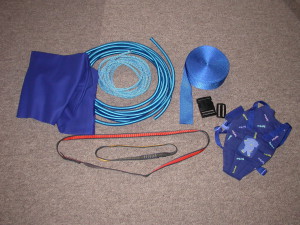 First, a quick pic of the materials so far. Lower right is actual baby bouncer I purchased – just the harness section is shown here. Moving clockwise we have the climbers webbing loops for fixing up to such bars as we have access to, a representative sample of the material for the harness, lying over the bungee cord – 12mm diameter. Inside that we have the lighter blue/speckled white rope – this stuff is amazing, it's strong like steel wire. Next to them we have the webbing to complete the harness and the buckles I'll be using to strap the little in. Missing from the picture is the massive bundle of wadding to pad the harness with. The carabiners are yet to be ordered but shouldn't be too complex to source (except my links to ScrewFix in my earlier post are now broken so it'll need some research again).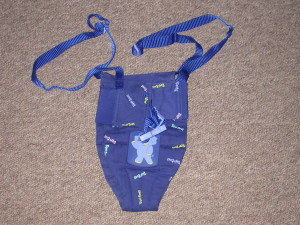 Here's a close up of the baby sized bouncer I bought to steal measurements from – all detached from the rest of it which frankly isn't as interesting. And below is the pattern I made by carefully scaling it up by 2.5 times the size to make it adult sized.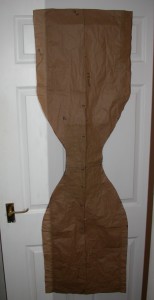 I've now carefully transferred the pattern to a section of my material – I have plenty of spare should I need to treat this one as a prototype. I've carefully pinned it ready to sew up with another layer and get the core of the harness built. More photos soon when I get started on that, should be this weekend.